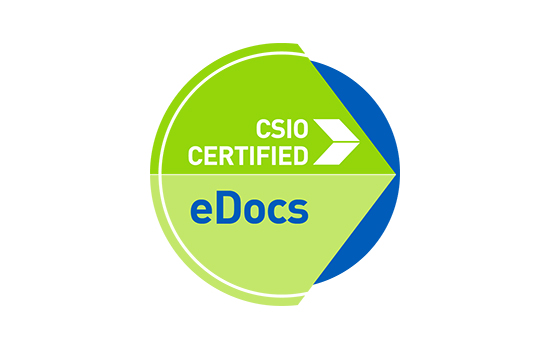 eDocs
Since July 2013, Peace Hills has been delivering eDocs to willing brokers and are currently compatible with TAM, EPIC, TBW, SigXP and PowerBroker.
CSIO data exchange standards are company neutral and help solve data compatibility issues, facilitate more efficient and seamless integration of information and improve implementation of technology solutions. CSIO Certification is available to member insurance companies and vendors. eDocs is the first business activity available for certification, with plans to expand the program to cover other activities.
Since its launch, the CSIO eDocs standard has seen a significant increase in adoption across the broker channel. To assist brokers in calculating the time and costs savings of eDocs, CSIO has developed an eDocs Savings Calculator. Available on its website, the calculator allows brokers to determine the daily, monthly and yearly time and costs savings gained through the adoption of eDocs.
Visit https://www.csio.com/resources-tools/csio-certification to learn more about the CSIO Certification program. 
---
What is eDocs?
eDocs is a new type of download that has been set up by CSIO. PDF reports, in addition to the policy data, can now be downloaded to brokers' BMS systems.
How Does it Work?
The eDoc PDF reports that are downloaded to the broker management systems are the DEC sheet (or policy) as well as the billing statement, which may be sent as a separate PDF report or included as the first page of the DEC sheet. This is dependent on the requirements of the BMS that the broker is using. If a broker memo is included with the policy, it will also be included as a PDF report.
Benefits of Using eDocs
As a broker, you will no longer have to manually download PDF reports from our website or need to receive paper documents from us. You will have access to them automatically through your BMS. This seamless routing of documents and attachments will help reduce time, administration costs, and is environmentally-friendly. With all these efficiencies, we can focus more on serving our brokers and their policyholders.
How to Get Started
Brokers must utilize the most recent versions of their BMS software to enable this feature, so they will have to confirm with their BMS vendors to ensure that they have the latest versions installed that support eDocs.
After their BMS is upgraded and ready to accept eDocs, the broker must notify PHI that they wish to begin utilizing the eDocs feature. After receiving confirmation, we can begin to upload their PDF reports to CSIO, which in turn will automatically download to their BMS.
The offering of eDocs is just another step in Peace Hills Insurance's initiative to provide quality customer service to our brokers, and their policyholders.
FIND A BROKER
With brokers across Western Canada you can always find great service near you.
Find A Broker